LOCATION
If this is your first WEMF, expect to find a scenic location with ample space for parking, camping and the biggest party of its kind in Canada! You will also find yourself just minutes from gorgeous beaches, amusement parks and shops of all kinds. For all you WEMF veterans, we invite you to experience virgin soil once more as WEMF touches down in a brand new location that is perfect in every way. Expect ample amounts of lush, forest surrounded, flat fields of green meadow for camping and parking. Expect the ability to have campfires and BYOB if you are of legal age. Expect fun day time activities like go-karting and mini golf. Expect FOUR MASSIVE hangar-like structures that will house the musical stages and you have the BEST WEMF VENUE EVER!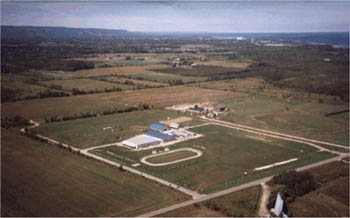 WEMF2004 will be held at the Great Northern Exhibition in the Township of Clearview – Just 10 minuets away from the worlds longest fresh water beach at Wasaga and 10 minutes south of Collingwood, Ontario.
Don't forget – You will be required to sign a camping waiver and show valid ID upon arrival at the gate. To speed entry, you may print and fill out the waiver in advance by downloading it from our website at www.wemf.com Camping waivers will be available online in July.